We did it! with your support, Matthew Epperson, and the GCDC family we did it! We were awarded RCDG grant of $70K!  Back in 2021, our former ED, Matthew Epperson wrote 40+ pages of grant narrative for GCDC's fiscal year 2021-22 USDA Rural Co-op Development Grant (RCDG) and it wasn't for nothing. It's going to support two more years (2022-2023, It's been extended) of rural co-op development, education, technical assistance and more! Thanks Matthew and GCDC Board for all of your hard work and diligence in getting us these funds. We'll keep y'all posted on all the goings on and how we put those funds to good use.
******************************************************
Have you ever heard of the RCDG? If not, it was first launched in 1990, and offers up to $200,000 in grant funds to help (among others) Co-op Development Centers provide services to help develop rural co-ops. Here are some prior year awardees to give you a flavor of who is applying and what for. You can find more program information here if you're curious, and for a deep dive, here is the USDA's Rural Co-op Magazine . Most of the organizational members of Cooperation Works! apply for this funding, and it provides a crucial Federal funding backbone for many centers that have been around longer than GCDC.
USDA has a long history supporting cooperatives, primarily as part of their programs to support farmers. More recently, with some of the legislation with things like the Main Street Employee Ownership Act (MSEOA), the US Small Business Administration (SBA) has been looking to USDA for guidance on crucial topics like personal guarantees (which have been SBA standard, but co-op advocates are fighting to waive or modify for 7(a) loans to co-ops, and USDA has not had this practice historically).
Well, with GCDC's RCDG, we managed to dot i's and cross t's as we got together letters of support, quotes, matching funds, proof of incorporation of co-ops with the Georgia Secretary of State, and more. We got together the minimum 25% matching requirement — and were able to submit on grants.gov before deadline!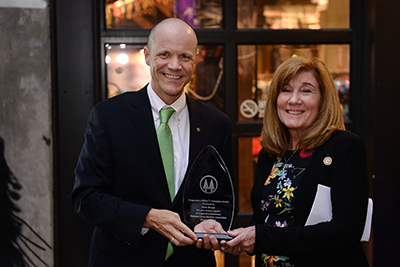 (Image Credit: NCBA-CLUSA, "Longtime cooperator Bette Brand named USDA's new Rural Development Deputy Under Secretary")
It's hard to decide what to ask for when you're asking for a relatively large amount of money! We decided to focus on (1) launching the Co-op Academy (see our last post about it!), and (2) helping to further launch GCDC itself with all of the people and money systems necessary to keep the work sustainable and able to report on our metrics of helping folks start or convert into co-ops. We'll be putting these funds toward bringing together even more of the talented folks to do things like teach cohorts of hungry, smart cooperators about business planning, and to turn GCDC into an even more systems-based nonprofit, full of standard operating procedures and best practices.
And now, with budgeting and scoring criteria writing wrapped for the 2021 RCDG application, it's a time also to say thank you to all of the folks who have helped GCDC get to where it is, and able to apply for this crucial funding. It's a list too long to give here, but you all know who you are. Thank you! We listed 11 direct partner organizations in this application! And there are so many more individuals who have been such a huge help to this center. And I'd be remiss to not specifically shoutout Thomas Beckett of Carolina Common Enterprise, our sister serving the Carolinas, for his willingness to answer seemingly countless small but crucial grant clarification questions. This process has been a great reminder of how wide and deep the co-op community is, and how many folks in the co-op space find themselves coming together to get this grant over the finish line each year.
From here, we wrote in an expected launch of grant activities on October 1st, 2021, running through September 30th, 2022. We should be hearing more from USDA soon, and will check back in as we learn more. Got questions? Thoughts? Drop us an email!